The Specialised Foundation Programme (SFP) (previously known as Academic Foundation Programme) provides a fabulous opportunity for foundation doctors to develop research, teaching and leadership/management skills in addition to the competences outlined in the Foundation Programme Curriculum.
Recruitment Process
To apply for any of the Foundation Programmes, first you need to ensure you are eligible to apply. If you graduated (or are graduating) from a UK medical school, your medical school will confirm your eligibility on your behalf. For non-UK medical school graduates, your eligibility will be confirmed via UKFPO's eligibility application process.
Specialised Foundation Programmes (SFP) must be applied for via the main application form on Oriel. These programmes tend to focus on research, leadership and management or medical education. Programmes are all recruited to through competitive selection methodology and will often require applicants to attend an interview. Applicants can apply for a maximum of two Specialised Units of Application (SUoAs). Each SUoA will manage its own local selection process which may involve a short-listing and interview process.
Applicants must refer to the specific SUoA (Specialised Unit of Application) website that you will be applying to, to see which achievements they will be taking into consideration for their shortlisting and interview processes. The SUoA/ foundation school websites will provide more information on the specialised posts they offer and their structure.
More information about how to apply, together with the timeline, is available in on the Two-year Foundation Programme page.
There are also a number of Foundation Priority Programmes (FPP), which offer exposure to academia, some of which also provide the opportunity to undertake a postgraduate qualification. Please see the FPP section of our website for further details.
Oriel – SFP application top tips
Applicants should note the following when completing their SFP application on Oriel:
The character limit is 100 when entering details for each achievement (e.g., title). The limit is 50 characters to enter a degree classification, and 200 characters when listing the authors or presenters for presentations and publications. All character limits are clearly stated alongside each field on the form.
Applicants should avoid using the return button to add line breaks into their educational achievements and white space question answers because doing so will use up some of the character limit for that field. Applicants may wish to use commas instead.
If the title of a publication/presentation/achievement exceeds the character limit, the applicant will need to shorten the title, e.g by removing some of the words or characters at the end of the title – it is up to the applicant to decide which characters or words to remove and individual judgement must be used.
Once the character limit is reached for a field on the form, the following error message shown below, will appear on screen to applicants. If this message appears, applicants are advised to review and reduce the number of characters/words used in each field, to ensure that they character limit has not been exceeded.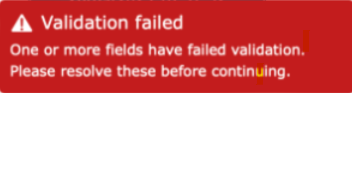 Programme Guidance