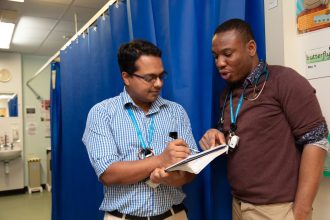 The Foundation Programme (FP) curriculum, which underpins the training and professional development of newly graduated doctors, relaunches for the first time in five years this summer. The curriculum sets out a holistic approach to care including physical health, mental health and social health and the skills required to manage this in both acute and community settings and for patients with chronic conditions. Foundation doctors must demonstrate that they are competent in the traditional elements of medical training but also in areas such as communication and consultation skills, patient safety and teamwork. The curriculum provides a framework for educational progression that will help them achieve these skills and supports them through the first two years of professional development after graduation from medical school.
"The last curriculum was published in 2016 and a lot has happened since then, not least the recent coronavirus pandemic. To remain fit for purpose, the Foundation Programme must evolve with medical practice and training, so our doctors are properly equipped to practice in a range of healthcare setting, now and in the future." Dr Tony Choules, Chair of the AoMRC Foundation Programme Committee and Operational Advisor to the UKFPO.
If you have any queries or comments about the revised curriculum, please contact us via Curriculum2021@foundationprogramme.nhs.uk
The UKFPO have put together a series of resources that will help trainees, trainers and foundation schools to understand what the new curriculum means for them. You can keep up to date with new additions to the resource bank via our Twitter and Facebook announcements.
Webinars

See our Webinars page to access the recordings of the 2021 UKFP Curriculum webinars.