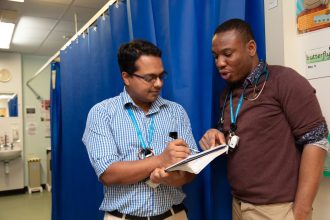 The Foundation Programme (FP) curriculum, which underpins the training and professional development of newly graduated doctors, relaunches for the first time in five years this summer. The curriculum sets out a holistic approach to care including physical health, mental health and social health and the skills required to manage this in both acute and community settings and for patients with chronic conditions. Foundation doctors must demonstrate that they are competent in the traditional elements of medical training but also in areas such as communication and consultation skills, patient safety and teamwork. The curriculum provides a framework for educational progression that will help them achieve these skills and supports them through the first two years of professional development after graduation from medical school.
"The last curriculum was published in 2016 and a lot has happened since then, not least the recent coronavirus pandemic. To remain fit for purpose, the Foundation Programme must evolve with medical practice and training, so our doctors are properly equipped to practice in a range of healthcare setting, now and in the future." Dr Tony Choules, Chair of the AoMRC Foundation Programme Committee and Operational Advisor to the UKFPO.
If you have any queries or comments about the revised curriculum, please contact us via Curriculum2021@foundationprogramme.nhs.uk
The UKFPO have put together a series of resources that will help trainees, trainers and foundation schools to understand what the new curriculum means for them. You can keep up to date with new additions to the resource bank via our Twitter and Facebook announcements.
Webinars

Upcoming webinar

See our Webinars page for information on the 2021 UKFP Curriculum webinars.

Further webinars

The session for graduates and foundation doctors will not be re-run. The session will be recorded and available on our Webinars page for those who are unable to make it.

We are organising a webinar aimed at trainers (educational and clinical supervisors) and one for international medical graduates. Further information on these webinars including dates and how to book will be available on our Webinars page once confirmed.
Topic

Resource

bank
UK foundation programme curriculum 2021
Interactive PDF
We recommend users access the new curriculum document through Adobe Reader or an up to date browser (e.g. Chrome or Firefox). Users accessing the document through Microsoft Edge may not get the full experience of the interactive PDF.

Rough Guide to the Curriculum – coming soon
Topic 1:
Launch of new UK foundation programme curriculum 2021
YouTube – What does the new curriculum mean for a supervisor?

YouTube – What does the new curriculum mean for a trainee?

The 2021 Foundation Programme Curriculum Factsheet
Introduction to 2021 FP curriculum for educators Factsheet

Podcast
Topic 2:
The educational supervisor
The clinical supervisor
The Educational Supervisor Factsheet
The Educational Supervisor Podcast

The Clinical Supervisor Factsheet
The Clinical Supervisor Podcast

Topic 3:
The foundation doctor
Self development time
The foundation doctor Factsheet
Self development time Factsheet
Topic 4:
The role of the doctor
The role of the doctor Factsheet
The role of the doctor Podcast
Topic 5:
The Placement Supervision Group (PSG)
The Placement Supervision Group Factsheet
The Placement Supervision YouTube
Topic 6:
Supervised Learning Events (SLEs)
Supervised Learning Events YouTube
Supervised Learning Events Factsheet
Topic 7:
The LEARN form
The LEARN form Factsheet
Topic 8:
The summary narrative
The summary narrative YouTube
The summary narrative Factsheet
Topic 9:
Giving feedback
Giving feedback Factsheet
Topic 10:
Supporting the foundation doctor
Supporting the foundation doctor Factsheet
Topic 11:
Building a portfolio
Coming soon – landing in July
Topic 12:
The annual review of competence progression (ARCP)
Coming soon – landing in July